Pir Sohawa Islamabad: Pir Sohawa is a highland picturesque rural sight, at an altitude of almost 5000 feet. A rapidly developing tourist resort located 17 kilometers, near Islamabad, on top of Margalla Hills.
Many people think its a part of Islamabad but geographically it is located in Haripur District, KPK. On 6 January 2012, after almost six years, Pir Sohawa, the city's highest tourist spot, received few inches of snowfall.This scenic place is praised for trips and holiday picnics in Islamabad. This is sighted near Monal Village, which exist on the incline against Islamabad city.
Furthermore, Pir Sohawa is linked to Islamabad by a winding road on which Daman-e-Koh (a hill top garden) is located and it takes almost 35 minutes drive to reach it from the city.
View Of Pir Sohawa
Above all, sight of Pir Sohawa presents a fantastic and picturesque view of Islamabad city during day and night.
For enjoying picnics in forest this is an ideal place while listening to singing birds and watching wildlife. After rains of monsoon forest in the hills of Pir Sohawa turns green.
In addition this sight is end point for hiking trips from the foot of Margla Hills, rising 3000 feet almost vertically upward from the Saidpur Village, Islamabad.A restaurant called "Monal Resturant" is also located at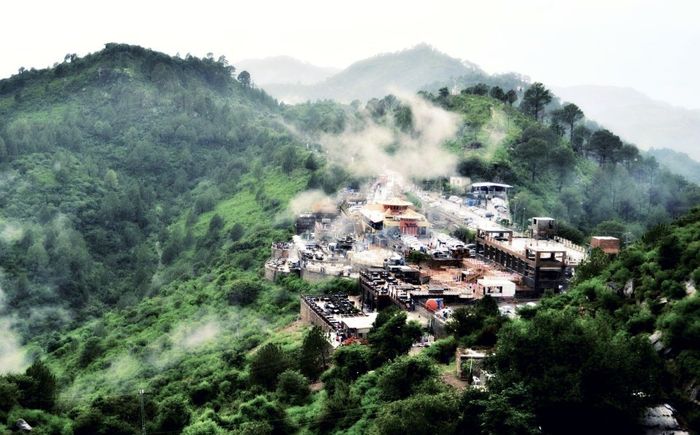 Pir Sohawa. Completed in 2006, the restaurant presents a breathtaking view of the city of Islamabad in day as well as amazingly beautiful show of city lights during night. So that people visit Pir Sohawa all the time.
One can adore fragrance and breeze, especially in hot days of summer, with thick forest present all around.
The place also attracts tourist during winter, as being a place sufficient for occasional snow fall due to an altitude of almost 5000 feet.
---
Tourist attractions
Bright hills is a holiday resorts at scenic views of canyons on Margalla hills at almost 4800 feet above sea level. 22 km from zoo Islamabad.
So the sight of this presents a fantastic view during day and night as well, therefore can be visited any time i.e. day and night.
---
What is around?
Talhar Village
Monal/Lamontana Restaurent
Margalla Avenue
7th Avenue
Blue Area
---
Nearby Tourist Sites
Japanese Park
Damn-e-Koh
Islamabad Zoo
Faisal Maosque
Furthermore the trials are:
Trials:
Damn-e-Koh / Zoo
Opposit Sector F-6
Dhok Jeevan
Dera Janglan
Chak Jabbi
Saidpur Village
---
When to go
At almost 620 meters above sea level, Islamabad is at its best from October to April, when the days are crisp and cool, and the nights are cold. Spring is short, but the flowers in March are a riot of color.
Most importantly in the months of May and June, before the monsoon, you can always escape to the hills. almost 2250 meters above sea level.
So it can be said that Pir Sohawa is suitable all the time to be visited.
---
How to reach Pir Sohawa
Islamabad and Rawapindi share an airport, the rawapindi City and Rawalpindi Cantonment railway stand, General Bus Stand, Pir Wadhi, Faizabad Bus Stand, Daewoo Bus stand Motorway Chowk, Faisal Mover Motorway Chowk and G-9 Karachi company Bus Stand.
It is 292.9 kilometres from Lahore (6 hours 30min) and 172.8 kilometres from Peshawar (3 Hours 30min) on the Grand Trunk Road (Nation Highway G.T. Road) .
While it is 382.6 kilometres from Lahore (4Hours 30min) and 185.7 Kilometres from Peshawar (2 Hours 30min) on the Motorway/AH1.
From Outside
Skyways, Niazi Express, Faisal Mover, Daewoo, Airport and Train
Within the city
Taxi, Car and Mini Busses
---
Nearby places
Markets
Blue Area, Super Market and Supper Jinnah Market
Malls
Safa Gold Mall and The Centaurus
Where to eat/ stay
Hotels / Motels / Resorts / Restaurants
Hospitals
| | |
| --- | --- |
| PIMS, Islamabad | G-8, 051-9261170 |
| Poly Clinic | Shaheed-e-Millat Road, Islamabad. 051-9218300 |
Ambulance
| | |
| --- | --- |
| Rescue 1122 | 1122, 0344 9597384 |
| Edhi Foundation | 115, (051) 2353374 |
Useful Addresses
| | |
| --- | --- |
| Tourist Information Centre | Sports Complex Islamabad. 051-9208949 |
| AP Tourist Information Center | F-10 Markaz, Islamabad. 0322-2881992, 051-8732529 |
| CDA | Khayeban-e-Suhrwardy, Islamabad. 051-9253001 |
| MCI | Islamabad. 051-9211555 |
| Passport Office | Mauve Road, G-8/1, Islamabad. 051-9107220 |
---
Map
---
This article was originally published on Pakistan Tourism. Check them out for more exciting information about Pakistan.